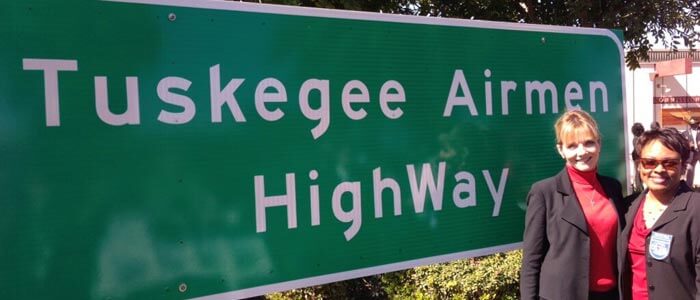 In Response to our previous post on May 29, 2012:  The senate is in the final stages of passing a resolution to name part of the I- 15 freeway near MCAS Miramar, "The Tuskegee Airmen Highway". For additional information click here. The Tuskegee Airmen group is in the process of raising the $8,000 needed to support the signage, placement, and other fees which Caltrans has indicated are needed to make this a reality. Please join us in supporting this great opportunity. Donations can be made to TAISD (Tuskegee Airmen Inc. San Diego) and be sent to their treasurer, Arlys Erickson, 30125 Corte Cantera, Temecula, CA 92591.  Their tax ID is #33-0645298.
On February 22, 2013, the Miramar Officer's Club at MCAS will unveil the Tuskegee Airmen Highway sign that will be proudly displayed on Interstate-15 in San Diego, Calif.
Amerit Consulting, California's largest Disabled Veteran Business Enterprise, is proud and honored to be a part of the celebration.
We salute the Tuskegee Airmen on this day and every day, for their courage, bravery and selfless commitment to protect in such dire conditions. We are forever grateful for your, and all of our military heroes' dedication. Thank you.
Amerit Consulting is proud to be a certified DVBE Staffing, Recruiting and Business Process Outsourcing Company. Through the partnership and success of our clients we are able to continue our support of America's Military Heroes who are in need. For more information about Amerit Consulting please visithttp://ameritconsulting.com/