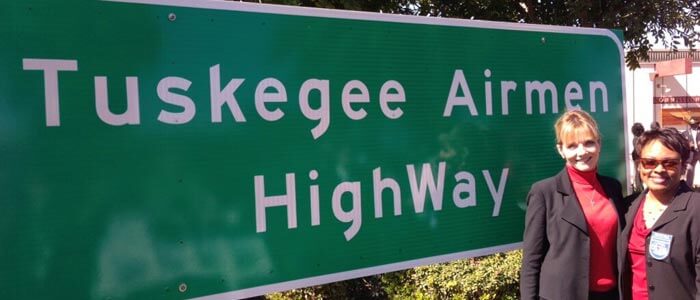 On February 22, 2013, our nation's first black pilots were honored at Marie Corps Air Station Miramar in San Diego, Calif. The three-mile length of Interstate-15 near the base was renamed the "Tuskegee Airmen Highway." Seven San Diego-area Tuskegee Airmen — Alfonso Harris, George T. Mitchell, Nelson Robinson, Buford Johnson, Louis Hill, Ted Lumpkin and Claude Rowe — attended the highway sign unveiling.
Amerit Consulting was honored to be part of the event. As a certified Disabled-Veteran Owned Business Enterprise, Amerit is proud to support all efforts supporting the United States' military heroes in honoring their legacies and assisting in their transitions to civilian lives.
"We were not just fighting for our country, we were fighting for our dreams and we were willing to give our lives for it. Our country has come a long way, and we are honored and grateful to receive this recognition," Airman Claude Rowe said following the passage of legislation by Sen. Joel Anderson, R-San Diego, that made the highway dedication possible.