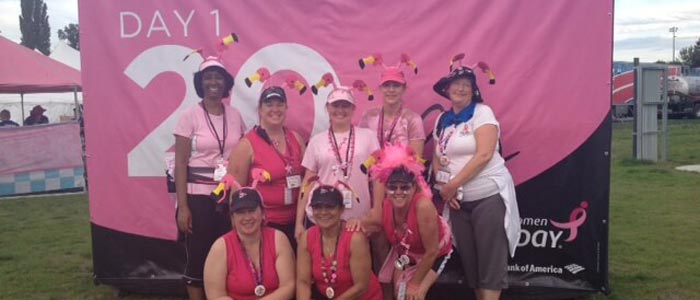 Marlene Welsh is a Business Recruiter for Amerit Consulting. On Friday, September 20 – Sunday September 22, she participated in the Susan G. Komen 3-Day Walk. We are extremely proud of her commitment and devotion to the cause. This posting is a reflection on her experience. Thank you Marlene and to all of those who have participated and will  participate across the country. We salute you all. 
I made it!!  It is now Monday and I have finally slept in my own bed and have had a hot shower. I almost feel back to normal except for sore leg muscles and blisters on my feet.  What an amazing three days I have had.
The ceremony yesterday was the final step of the Susan G. Komen 3-day Walk and was an incredible experience.  The adrenaline was still going and emotions were at an all-time high.  People were laughing and crying all at the same time.  I was excited to see the support of my family in the stands that had come out to share this experience with me. Pictures kept running through my mind capturing moments of time of the tremendous three-day experience.  Here's what stood out in my mind:
First day highlight was a tradition called "the last walker in".  This is when all walkers and crew go out to clap and cheer in the last walker with loud inspirational music playing in the background. Typically, the last walker has a reason for being late, a physical reason.  For instance, it could be a walker in the fight for her life as she is battling this horrible disease. Such was the case when the last walker in was a member of my team who is suffering from stage 4 breast cancer that has spread throughout her body. She walked every mile that day.  Before she finished the tradition of raising the 3-day flag, she said to everyone,  "The doctors say I'm terminal, but I'm not going to claim that.  I'm going to live my life to the fullest every day. However, if I lose this battle, I'm not afraid of dying because I know that my last breath on earth will be followed by my first breath in heaven."  I was completely blown away by her strength and perseverance.
Second day highlight for me was realizing the level of support from the crew and the community.  There were hundreds of people donating their time and efforts, which included some very creative and colorful outfits.  Their support literally keeps giving you the strength to press on and they give the same level of enthusiasm to each and every walker
Third day highlight was the level of determination in the walking-wounded.  Many walkers were limping their way to finish line.  My teammate for instance, had 13 blisters on her feet. Nurses encouraged her to take a van to the finish line and wait for the closing ceremony.  However, my teammate was very determined and after getting bandaged up as best they could do, we headed out for the last four miles to the finish line.  We crossed the finish line together and you could tell that she felt she had conquered the world! She refused to give up! I was so proud of her.  60 miles!!
There is more than one story like that.  Every walker across the finish line has a "walking-wounded" story of herself or someone else.  But we made it and at the closing ceremony we celebrated all that was accomplished, including how Seattle walkers raised 3 million dollars in donations.  What a great feeling to have been a part of that!
At the end of the closing ceremony, we honored our walking Breast Cancer Survivors, raised the 3-Day Flag one last time and danced to "We Are Family" before we all hugged and said goodbye.
Amazing 3-Day experience!  Can't wait to do it again next year!
Thank you everyone for your support!  I would have never been able to have this incredible experience if it hadn't been for all your generous donations and support.  TOGETHER we did it…WE made a difference.
The views expressed in this blog do not necessarily represent the views of Amerit Consulting.