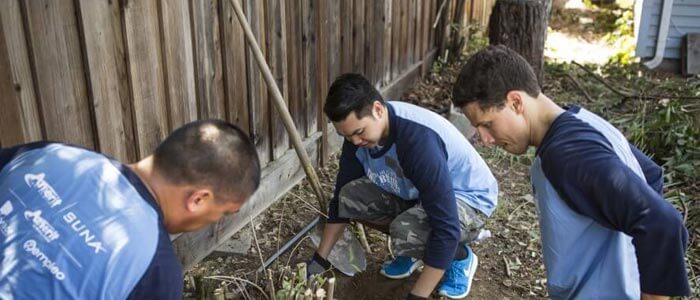 Kicking off the annual Build for the Brave Day, the energetic employees of Amerit Consulting, and their sister companies Suna Solutions, IC Advisor, Zempleo, and Amerit Fleet Solutions, were honored to support Habitat for Humanity in providing two veterans and their families with new homes.
On April 17th and 18th, a total of 30 employees joined team leaders from Habitat for Humanity East Bay/Silicon Valley as they began demolition on one house and applied the finishing touches to another.
In 80 plus degree weather, teams of 15 people each day, began the strenuous task of total demolition on House #1. Strength in numbers paid out as together, they completely overhauled the backyard, kitchen, closets, and bathrooms. By the end of Day 2, the house was left only with its walls and two dumpsters filled over the brim, ready for the next stage of development.
"It was awesome just to be able to give back to our nation's heroes," said Charlie, an Amerit Consulting employee. "Giving one or two days to help make their dream home a reality is the least we can do.
House #1 has approximately six more weeks until its completion.
Not far from House #1 was House #2, a beautiful cottage-style with a huge backyard and finished front yard. Having the major demolition and rebuilding already completed, the house had a lingering smell of sawdust and fresh paint.
Applying new coats of paint to walls, finishing and painting doors, caulking windows and trims, cutting and setting base boards, and cleaning up were just some of the projects the team completed for House #2.  With just a few weeks until its completion, landscaping and furnishing are the only tasks left to turn this house into a home.
"Having the opportunity to provide someone with a new home is very special and extremely rewarding thing," said Alison, another Amerit employee. "Being able to come together as a team to meet the goal is the icing."
Support of veteran and community charities and philanthropic efforts is part of the fabric of the corporate culture at Amerit Consulting. This commitment flows through our CEO, Gary Herbold a twice-awarded Purple Heart recipient. Leading by example, Gary possesses a captivating compassion and drive to support our military heroes, inspiring a culture of caring, commitment and integrity amongst every employee.
__
Established as a consulting firm in 2002, Amerit Consulting has been in business for over 11 years, and operates as one of five sister companies under the successful parent brand, Evergent Group. At Amerit, we know that bringing the right people together is always the key to achieving great results. Amerit provides world class Human Capital Outsourcing services including Professional Payrolling Services, Independent Contractor Compliance Services, Staffing and Consulting. Amerit is a California-certified Disabled Veteran Business Enterprise.