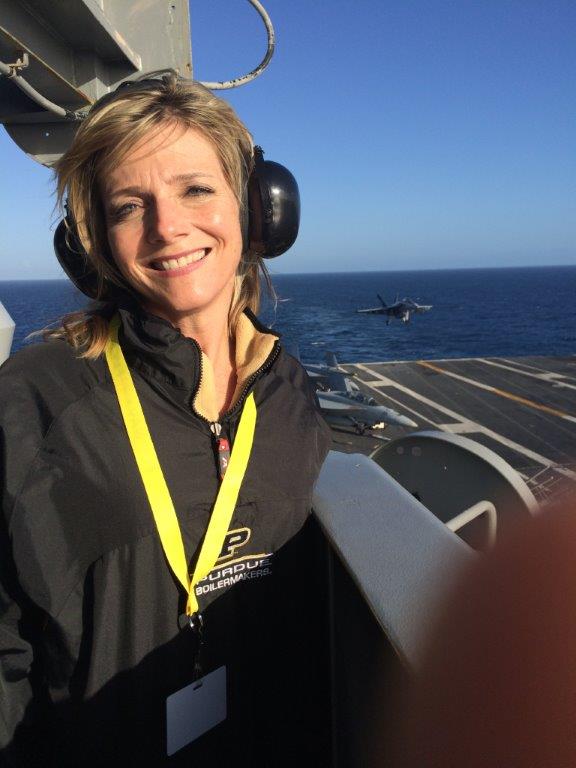 Our VP of Business Development, Eve Nasby, had the opportunity to go onboard the U.S.S. Nimitz. We sat down with Eve and she explained her experience below…
We were honored to have been recommended, vetted and accepted to this great honor of spending the night on the U.S.S. Nimitz last week. Unless you have served in the military and on an aircraft carrier, you have no idea how hard these folks work daily. As the shifts were getting on and off, they shuffled across the hangar bay below the flight deck, red-eyed and wearied, passed by their perky just getting on shift counterparts. Everyone has a role. In fact, everyone has a few roles, and they train for even more roles! From the guy who washes 5,000 forks each meal to the 'grapes' who handle all of the fuelings on the flight deck to the Admiral. Each has his or her own role and each is mission critical in its own way.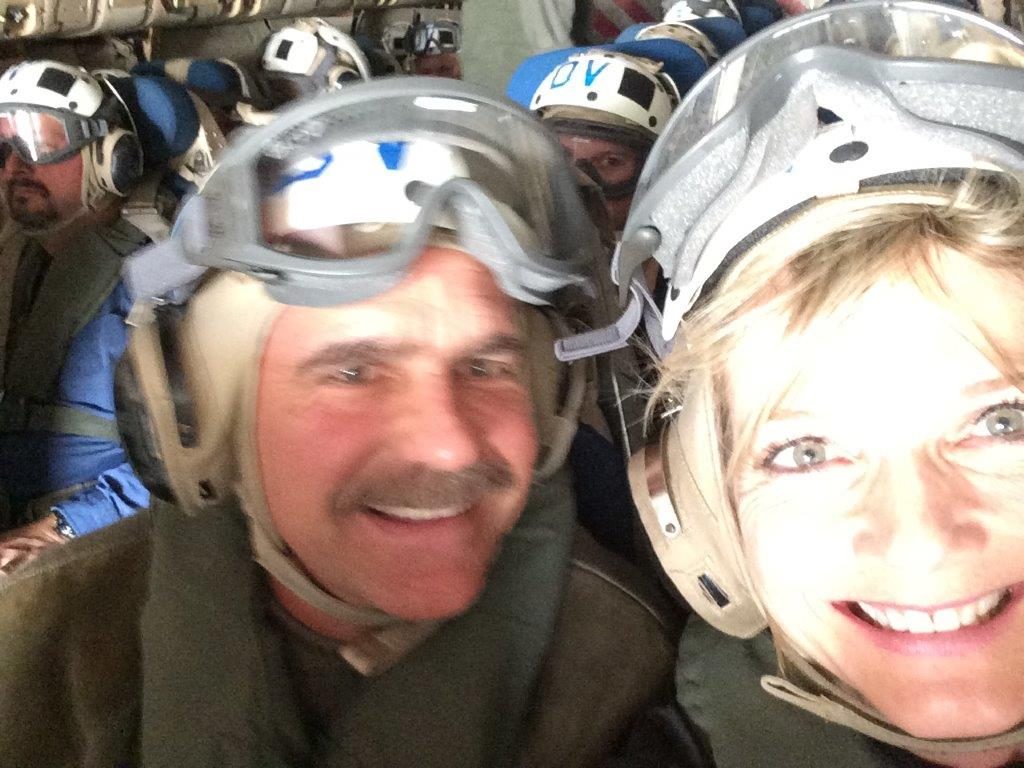 To launch our 2-day tour, we did an initial briefing with "Downtown," a Commander. After our very informative briefing and Q&A, we then suited up in a very flattering (not) life vest with a color tea bag in case you get dunked in the ocean, the color will tip your rescuers off. We also sported a chem light and whistle as well as our "cranial" helmets with ear pro and goggles. All set, decked out and ready to launch!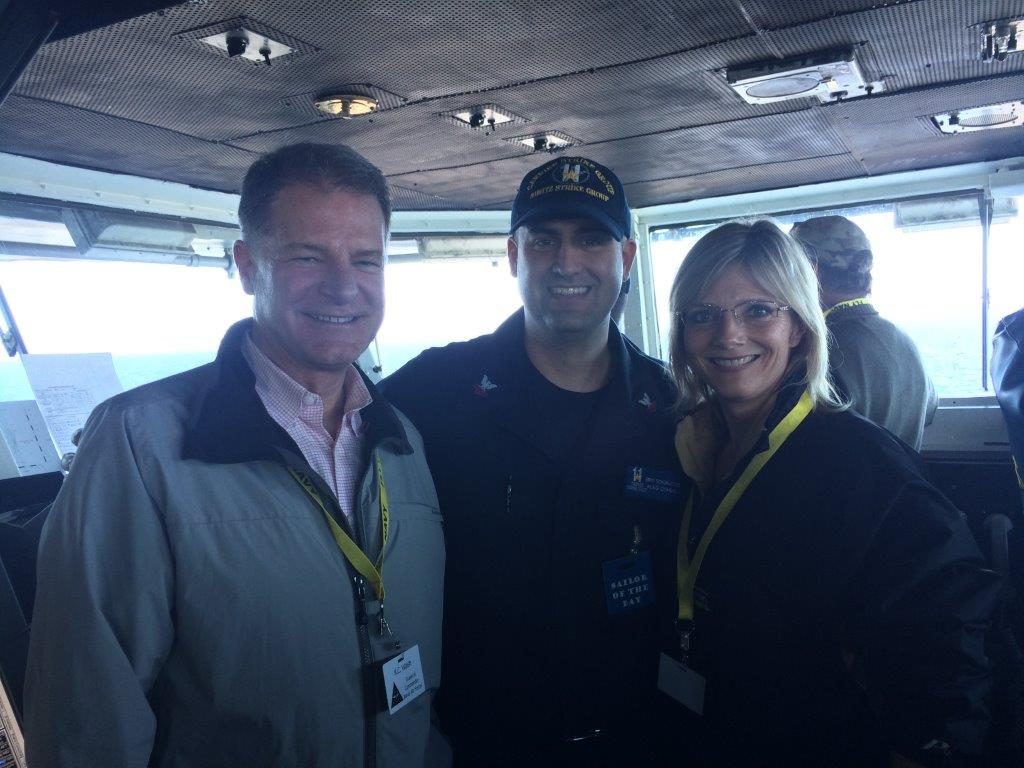 We were shuttled onto a C2 Greyhound dual prop and flew for about an hour to the U.S.S. Nimitz. The drone of the engines as we sat backward in the fuselage invited to sleep, but the adrenaline of what we were about to do kept us wide awake. BAM! We felt it. We heard it. We did it! We did an arrested landing; tail hook! Way to go Providers VRC-30! We were ushered immediately to the Captain's quarters where we were introduced to Admiral Nimitz's original desk and a map with his writing on it describing the battle plan and notes they intercepted from the Japanese during WWII. We were spoiled as we were served hors d'oeuvre and tea/coffee and listened to Captain Kevin Lenox give us the history of the USS Nimitz. We were then taken to the Admiral's quarters for another Q&A. By the way, the person driving this multi-billion-dollar collection of assets was a 23-year-old female. (Please tell me again why you don't want to hire a Veteran?)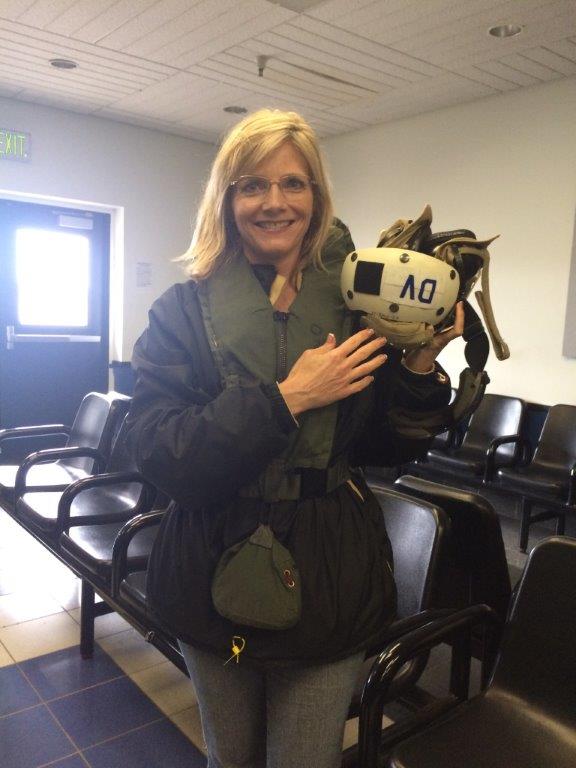 We had the opportunity to hang out on the Vultures Nest and watch both day and night ops…. helicopters landing and of course F18's landing and taking off with the catapult. One of the pilots of the Black Knights was a pilot who didn't know he liked to fly until he came up strong for aviation on his aptitude test. He thought he wanted to join the military, then decided not to and went to school for finance. He got out and was not quite satisfied with his work and he went to enlist. His recruiter didn't tell him, but he changed the order of his preferences to reflect flying first, (per the test) and he got into the pilot training. Today he flies Hornets. The spectrum of talent and stories was wide as we engaged various folks aboard asking about their journey to the Nimitz.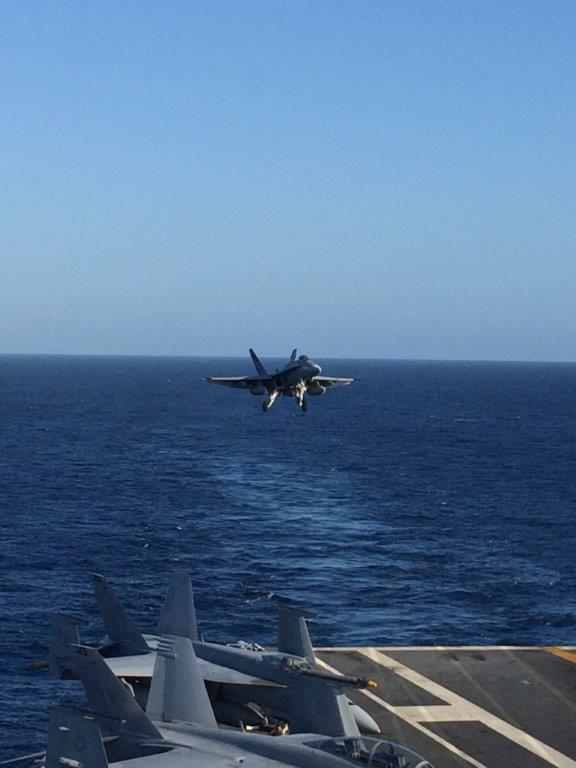 After sleeping, or trying…right under the flight deck of landing and catapulting F18's and in the wee hours of the morning going through the shuddering of entire ship as they did the "full steam ahead, then put on the brakes exercise" we awoke to breakfast with the Chief Petty Officers. There is nothing like sitting backward in the C2 for 15 minutes listening to the engines and other sounds, trying to predict when you will launch, thinking you can hear the engines revving up, only to be disappointed a few minutes later when nothing happens. Finally, the two folks in the front wave their hands frantically and WHOOSH! Off we go with G forces heavier than any amusement park ride you've been on. We couldn't wipe the smiles off our faces.
Upon landing back on Coronado, we were presented with the following certificates:
"Know all by these present that Eve Nasby a fearless intrepid birdman has exhibited faultless courage, exceptional bravery, NAFOI (No apparent fear of death) and intestinal fortitude in examining the entire spectrum of air approach parameters while successfully completing an arrested landing aboard U.S.S. NIMITZ (CVN 68) with less than mortal injury. "
Loved the tour! Love our military! Let's do all we can to corporate America to bring Veteran unemployment to its knees. These folks know how to work hard, as a team and get the job done!
Thank you to all the great folks who made this trip possible.