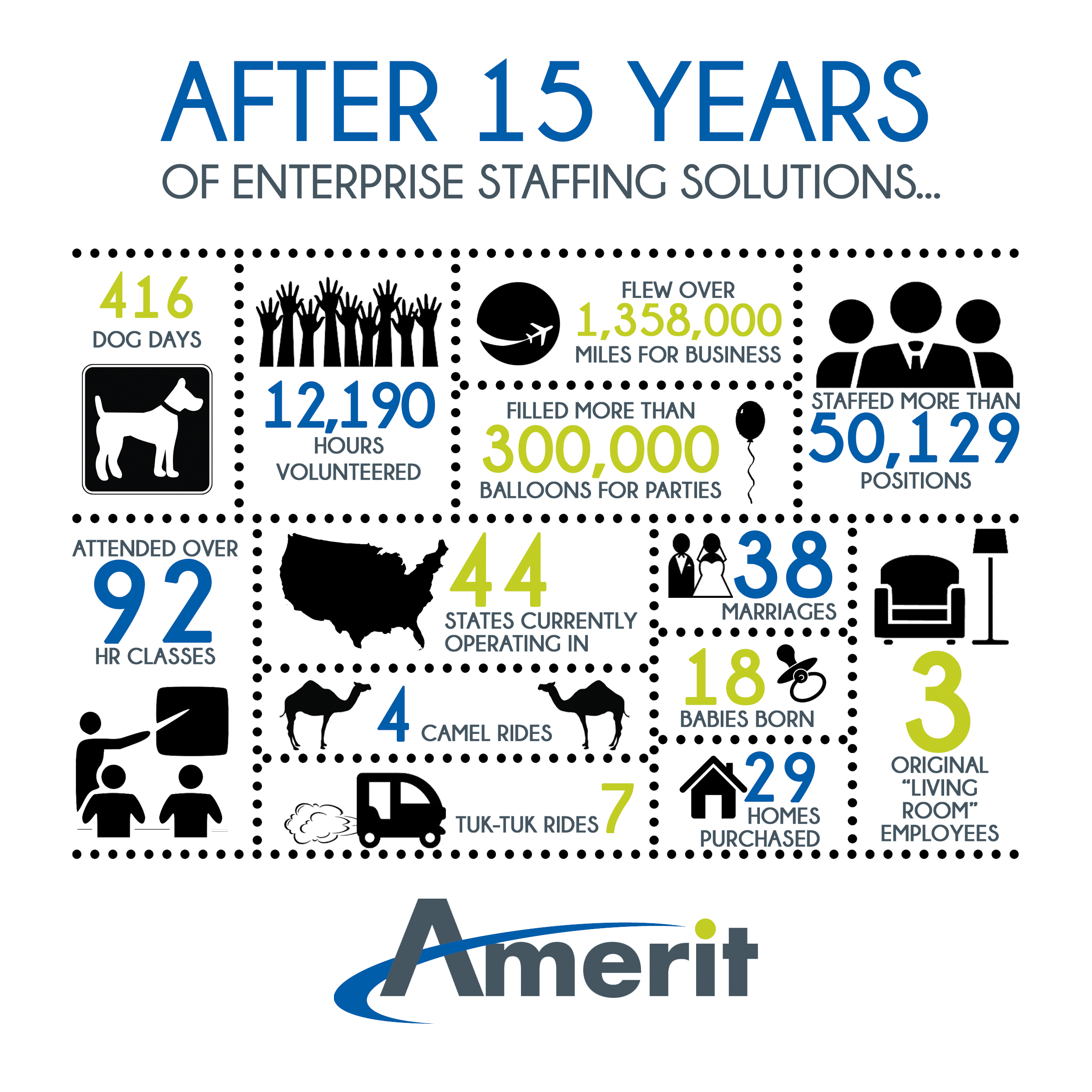 Fifteen years ago, Amerit Consulting was formed in a response to the increasing demand for qualified diversity staffing services to address the needs of Fortune 500 and other progressive businesses. Since 2002, Amerit has evolved from strictly staffing solutions to offering additional complimentary services including consulting, managed service provider solutions, business process outsourcing, independent contractor compliance and payroll services.
Amerit's humble roots started in Dan Williams living room, where he, along with co-owners Gary Herbold and Amein Punjani laid the foundation of what Amerit is today. "We believed in ourselves, our abilities and never wavered in our trust in each other to succeed in becoming the largest DVBE company in the country," states Gary Herbold. "I was ecstatic when we got the call that we had our very first $100,000 in the bank!"
As the business grew, more employees were added to the team which led to the company opening its first small office in Berkeley, CA then Lafayette, CA followed by Walnut Creek, CA and now to the current headquarters located in San Ramon, CA. President Michael Larkins weighs in, "My thoughts from the Lafayette office: Mangia Pizza, server in the closet that was next to the volleyball net, no air conditioning, no parking but a lot of great memories."
Employees were then hired in San Diego county to assist in the expansion. "My orientation during my first week of work was actually at Vice President of Operations, Sabrina Chisholm's house. Nothing screams trust in your new employer like spending your first week of work at your new boss's house. Even then I knew this company was special," Director of HR Operations and Client Services, Lahka Egbert comments.
Amerit's owners have always believed in hard work, family and fun; which is why they host an annual Company Event to show their appreciation for all the contributors who have shaped Amerit over the last 15 years. The Company Events consist of activities ranging from croquet and epic beach volleyball tournaments to scavenger hunts and dance competitions.
After the addition of the southern California office, Amerit expanded globally establishing an office in Chandigarh, India in 2010. Amerit's India team has been a crucial part of the ability to expand services and meet the demands of the staffing industry.
Originating from humble beginnings to today with an annual revenue of over $150 million, operating in forty-four states and eight office locations, Amerit Consulting has claimed their space in the diverse human capital industry.
To check out more photos over the years, please click here.